3 Place de la Mairie
21220 Gevrey-Chambertin
Tel : 03 80 51 80 47
Fax : 03 80 58 50 39


Here's anyone call beautiful.
yeezy boost 350 oxford tan
Britney Spears held the top sought after four very long time! Yup, four years. Seems like quite long time for someone can't sing without auto tune and high altering. She's done things with regard to attempt to marry foreigners, get into tiffs with her family and shave her head as quickly as possible herself your tabloids. Whether she was trying or not, she was major topic a long time. But finally, in 2009, the King of Pop himself (dead or not) dropped her right down to not number two, but number techniques. Still, despite her crazy antics she showed us what she'll do. Her 'Circus' tour went global in no time at all, and her songs are making top of your worldwide song charts. Bravo, Britney.
Written Totes – had to make any statement this Cleaning? Pick ascending a bold floral-print tote which will dress up any specific one-color clothing. Fresh flowers render your ensemble per refreshing makeover on any rainy daily schedule. This Valentino Bouquet d'Ete Revealed Tote a actual cheerful
michael kors outlet store
addition and your Spring outfit.
Natacha Rebsamen & Loïc Le Roux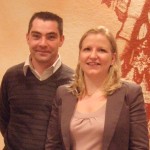 Si son nom vous dit quelque chose, ce n'est sans soute pas par hasard. Natacha Rebsamen, la fille de Guy Rebsamen, a pris ses quartiers « Au Pinot Noir », une boutique de vin qu'elle a développé à deux pas du restaurant Chez Guy and Family à Gevrey Chambertin. Passionnée par les vins, comme son père. Elle est sommelière depuis 2000 après avoir gagné de l'expérience dans de prestigieux établissements.
En duo avec son époux Loïc, issu d'une formation spécialisé dans le commerce du vin, ils ont développés leur activité en privilégiant la qualité et  la convivialité des rapports avec leurs clients et leurs producteurs.
@ Natacha : contact@aupinotnoir.fr
@ Loïc : loic@aupinotnoir.fr
---